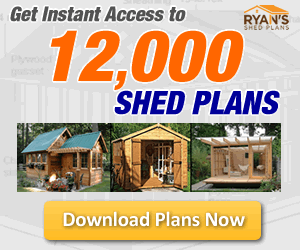 <—————Download Small Shed Plans here.
Small shed plans are not an excuse for you to have a structure that's devoid of any character. You might be surprised to find out, too, that you can have more space in a small area if you let your imagination give you some big ideas for your interiors.
Huge Windows and Sliding Doors
A small shed isn't impossible to be turned into an office or crafts room. French windows or glass walls are a great way to provide an illusion of space. If you've already got a well-maintained garden, have some matching plants right outside the walls so it will appear as if the whole garden is your office.
You can also use sliding doors, instead of the swinging type, to give you more room inside. If you're planning to use it only as a summer office, you can replace one whole wall with an accordion door and open it halfway or completely whenever you use it to let the air in.
Storage Organizers
Most small- to medium-size sheds are used as storage for tools, firewood, old stuff from the house, and miscellaneous things. If you have a small storage shed, you need to have strategically planned organizers.
If you're using it as a garden tool shed, then you need to do an inventory of your tools and equipment. Think about which tools you use everyday, regardless of the season, since the shelves and cabinets for these should always be easily accessible.
Seasonal items can be place in the more hidden or upper portions of organizers. Separate the things that you use only in summer from those that are exclusively when the rain or snow comes in. If it's your storage for outdoor equipment, build customized holders for your fishing rods. You can have your kayak or skis suspended in the air so you can get the equipment out of the way when not in use without troubling yourself about extra space.
You can place hooks or pegs at the back of your door. You can use those hooks and pegs as a coat and hat rack or to hang a garden hose or long-handled tools.
Your shed doesn't have to be big for it to be pleasing to the eyes and useful. Even a small shed that looks more like a child's closet will do. Proper planning and some thinking will give you the storage, office, or potting area that you want with your shed.